The 1991 and '92 TCU for the 3000GT and Stealth models are difficult to get and very expensive. I'm speaking specifically about the following part numbers: MD739228, MD740087, MD758085, MD758086, MD751888 If you have a TCU core that can be restored, that is always the best way to go if it is repairable.

Check the pics below to see if the processors on yours look blown. Sometimes it is difficult to tell, but if you see what we show below, then do not bother sending it in for repair. You will have to replace your TCU. We do not know of a source for the replacement chips needed to overcome the blown processor on these particular TCUs.
If you have a 1993 - 96, this does not apply to your TCU.

These early nineties Mitsubishi 3000GT TCUs are prone to
failure due to the original factory electrolytic capacitors.
When they get to a certain age the capacitors start slowly
leaking an oily fluid that eventually will corrode the copper lines
of the printed circuit board, as well as degrade or ruin the metals of any components that were saturated in the acidic chemical.
After a TCU has been properly overhauled,
the capacitor problem will not be back again.
Only the old original factory capacitors,
be it from Nichicon, Rubicon or otherwise,
are what is causing all the trouble.
These capacitors were all made in the 1980s, and
later wound up in various Japanese brand electronics
and automotive control units in the early to mid 90s.
This is not a problem with contemporary components.
TCU for Mitsubishi 3000GT DOHC

SOHC TCU for Mitsubishi 3000GT

Attn:'91 - '92

Before sending in an MD739228, MD740087, MD751888, MD758085, MD758086, MD751888 for rebuild and return service, please check the main processing chips on the circuit board for sings of the examples below. If you have either of these on your TCM, it will not be repairable. There is one large chip and two smaller ones on these.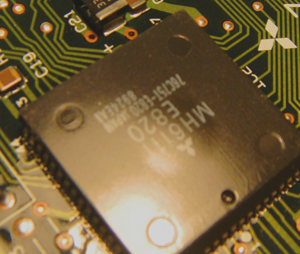 This is the classic "bubbled chip", it is possible to replace the chip, but it is not available anywhere, except for on another TCM of the same part #.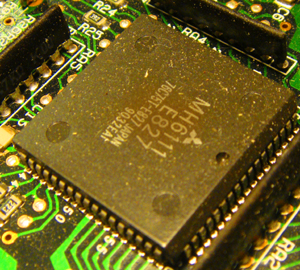 This is a sneaky one, the "brown center" burnt chip,
this is easy to miss, sometimes it is very faint, not as obvious as this one, but it is still a board killer.
Ship to us at: Foreign Auto Computer
176 Private Road 7869 - Holly Lake Ranch, Texas 75765
We charge $35. for inspection plus return shipping cost
(but only if there is no sale or repair)