1
3.0 DOHC non turbo ECMs
MD159963, MD190662, MD192591,
MD159962, MD188204,MD188206, MD192590,
MD192591, MD319398, MD339761, MD347251, MD360162


Note: Specific to these Mitsubishi 6 cylinder ECMs
or ECUs for Stealth, 3000GT and Diamante'
In some cases, maybe 30% of the time or so, the vertically mounted
"sub board" near the center of the board, either the
MH0210 or the E552 is damaged and has to be replaced.

It is sometimes damaged by the electrolytic acid from failing
capacitors, and other times one or two of the surface mount
processors on them will burn out. This can cause a dropped cylinder or more,
including no start, & other issues. Cleaning it off, does not cut it.
The acid soaks in and degrades the metal on the board
Sometimes you can see the burnt component if you really look it over closely, the acid damage is much easier to spot. It will usually look oily, discolored or darkened in that area, usually with a black or dark green corrosion.

This sub board is only available from another "donor" 6 cylinder ECM,
and that donor ECM will be useless after it is removed.
We charge an additional $150. to sacrifice one of our other ECMs
to save yours, unless you can provide the donor board yourself.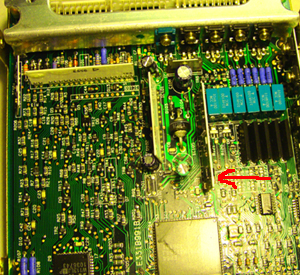 This is the sub board, located just to the right, down the center of the board.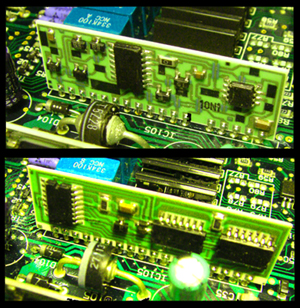 Heres a closer look at one side of the interchangable E552 and M0210.

Ship to us at: Foreign Auto Computer
176 Private Road 7869 - Holly Lake Ranch, Texas 75765
We charge $35. for inspection plus return shipping cost
(but only if there is no sale or repair,)
Stealth Twin Turbo ECM, 3000GT VR4 ECM, VR4 ECM repair, VR4 ECU repair, Stealth ECM, Stealth ECU, 3000GT ECM, 3000GT ECU, rebuilt VR4 ECM, rebuilt VR4 ECU, rebuilt Twin Turbo ECM, rebuilt Twin Turbo ECU, Mitsubishi ECM repair, rebuilt 3000GT ECM, rebuilt 3000GT ECU, 3000GT ECU, 3000GT ECM,rebuilt 3000GT ECMs, rebuilt 3000GT ECUs, 3000GT computer,
3000GT ECM repair, 3000GT ECU repair, 3000GT TCM repair, 3000GT TCU repair,rebuilt 3000GT ECM,
Mitsubishi ECU repair, Mitsubishi ECM repair, rebuilt Mitsubishi ECM, rebuilt Mitsubishi ECU, Mitsubishi ECUs,
Mitsubishi ECMs, 3000GT engine computer, 3000GT transmission computer, 3000GT IAC, 3000GT ISC,
rebuilt IAC, rebuilt ISC, IAC repair, ISC repair, 3000GT IAC repair