ECM failure
The early nineties Mitsubishi made ECMs and TCMs are quality computers with the exception of the failing Rubicon electrolytic capacitors that were used to equip these electronic control units.
Engine computer or transmission computer, these will break down after five years or so, some last a few years longer but they are basicaly on bowored time. With the ECU sometimes the failure is gradual, the vehicle may be running poorly, difficult to start, the check engine light stays on, etc... then progressing to the point of not running at all. Sometimes it is sudden death, no start for no apparent reason, when everything seemed fine.
2.0
ECM,ECU Mazda part #s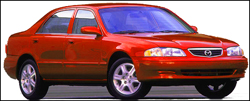 FS01 18 881
FS02 18 881
FS03 18 881 Cal
FS08 18 881
FS61 18 881 Cal
FS62 18 881
FS77 18 881
FS78 18 881 Cal
FSB8 18 881
FSC1 18 881 Cal
We have a huge inventory of remanufactured Mazda ECMs, rebuilt Mazda ECUs available and ready to ship today. We also have a alot of the more popular ECMs,ECUs and TCMs for Mitsubishi,Honda and Hyundai.
Call us with your part #s for a price quote 800 241 6689

Our staff of technicians specialize in the repair and rebuilding of automotive computers, specifically engine computers and transmission computers,
known as the ECM, ECU and TCM or TCU.

We rebuild, repair and exchange Japanese electronic control units for Mitsubishi, Suzuki, Honda, Mazda, Geo, Acura, Hyundai, and import Dodge, Plymouth, and Eagle.