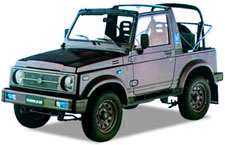 Most commonly we see the 33920 - 80C30 for the Mitsubishi made early 1990s Suzuki Samurai ECU.
Usually repairable but it depends on the damage from the electrolytic capacitors leaking onto the board.
If your ECU is repairable we overhaul these at a flat rate of $195. including return shipping to you.

Send your ECU to us at the address below,
please tape a note to it with your name & phone #,
include a brief description of your symptoms.
When it arrives we will call you to discuss the repair.
Ship to us at: Foreign Auto Computer
176 Private Road 7869 - Holly Lake Ranch, Texas 75765

We have been restoring Mistubishi ECUs since 1998

Our repair service will address the specific problems with your faulty ECM or TCM, but we also will replace various passive components, as a preemptive net approach, to protect the electronics and to ensure it a long and healthy life of reliable proper function.
Any questions call us 800 241 6689
or text us at 903 216 6456

Our Samurai ECM repair, or ECU rebuilding service is an economical alternative to purchasing a replacement, which is difficult to find with one of these early 1990s Suzuki Samurai engine computers.
$195. including return shipping , 5 year warranty