TCM failure
The early nineties Mitsubishi made TCMs are quality computers with the exception of the failing electrolytic capacitors that were used to equip these electronic control units.
Engine computer or transmission computer, these will break down after five years or so, some last a few years longer but they are basicaly on bowored time. TCM or TCU failure usually appears as "fail safe mode"- the car drives in second or third gear only.
Mitsubishi part #s MD740087 and MD758086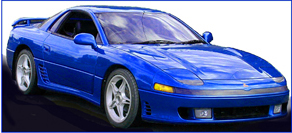 Mitsubishi DOHC TCM/TCU - MD740087 and MD758086
These particular Transmission control units, Mitsubishi part #s MD740087 and the MD758086 are a severe pain for any '91-'92 DOHC Dodge Stealth, Mitsubishi 3000GT and Diamante' owner.
The failure is very common, and unfortunately the unit is destroyed durring failure most of the time and is not rebuildable. This makes them rare and expensive.
Rebuild and Return Service is available at $195.
if your TCM is repairable, please read below.
Before sending in an MD740087 or MD758086 for rebuild and return service, please check the main processing chips on the circuit board for sings of the examples below. If you have either of these on your TCM, it will not be repairable. There is one large chip and two smaller ones on these.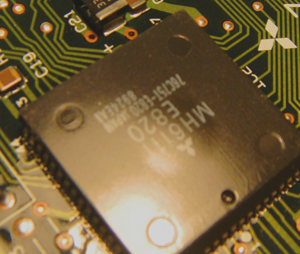 This is the classic bubbled chip, it is possible to replace the chip, but it is not available anywhere, except for on another TCM of the same part #.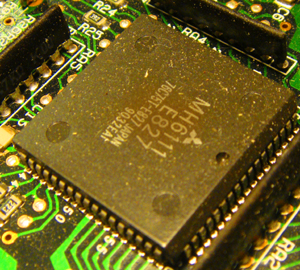 This is a sneaky one, the brown center burnt chip,
this is easy to miss, sometimes it is very faint, not as obvious as this one, but it is still a board killer.
Call us toll free at 800 241 6689

Our staff of technicians specialize in the repair and rebuilding of automotive computers, specifically engine computers and transmission computers, known as ECMs, ECUs and TCMs or TCUs.
We rebuild, repair and exchance Japanese electronic control units for Mitsubishi, Suzuki, Honda, Mazda, Geo, Acura, Hyundai, and import Dodge, Plymouth, and Eagle.